WW Components -- Images of Our Work
Electrical Contact Retipping and
Manufactured Electrical Contacts
---
At WW Components, we work on contacts, bus bars, finger clusters and more from a wide array of OEM's (Original Equipment Manufacturers.) This portion of the site shows samples from some of the more common ones such as; General Electric, Westinghouse, ITE, McGraw Edison and more.
---
General Electric®
We can build and repair many different types of General Electric contacts. Our most common work has to be GE Air Circuit Breaker parts from the AR-A1 breakers (upper gap electrodes, lower gap electrodes, main and arcing fingers, blade assemblies), AK (AK-2-25 Movable contacts are shown on the right) and AKR breakers, Magne Blast parts, and more. Our GE Oil Circuit Breaker work ranges the many versions of FK breakers. And finally, the Load Tap Changers; LR, LRC and LRT types, represent some of our special work.
Shown below are just a few examples of recent GE work with a mix of repaired and manufactured parts. Click on the "Breaker Types" and "Motor Starter" buttons on the main page for a listing of more GE breaker types.

---
| | | |
| --- | --- | --- |
| LRT-72 Blades | FKD-14.4 Rods | 1600 Amp Contacts |
| SE-100S Arc Blades | LRT-48 Contacts | Crane Contacts |
| AK-2-25 Stationary Contacts | FK-33 Stationary Fingers | FKD-14.4 Staionary Assemblies |
| FK-439 Contacts | AK-50 Contacts | AK Arcing Contacts |
---
Westinghouse®
Our Westinghouse work includes contacts from the Air Circuit Breakers CA, DA, DB, DE, DH, DR, DS, and MA types. We can repair any of the contacts as well as replate finger assemblies. The work we do on Westinghouse Oil Circuit Breakers is highly praised by our customers. We can repair movable double stabs, the mains and arc horns to the point of surpassing the quality of the original parts.
The URT is our most often requested Load Tap Changer type. The URT contacts in the table below are all repaired but came out better than brand new products! We also have extensive experience in repairing the many different kinds of Westinghouse motor starters, including the larger sizes 7 and 8.
The image to the right shows a Westinghouse DB-25 three-pole set; three movable mains, three movable arcings, three stationary mains and three stationary arcings. Click on the "Breaker Types" and "Motor Starter" buttons on the main page for a listing of more Westinghouse breaker types.

---
| | | |
| --- | --- | --- |
| 144 CG Movable | LF Ampguard | DH Arcing Contacts |
| GM5B Intermediates | MA-800 Contacts | UHT Stationary Arcing |
| Size 8 Motor Starters | 144 CG Stationaries | URT Contacts |
| GF Contacts | OCB Auxilary Contacts | J F Autostarters |
---
McGraw Edison®
Our McGraw Edison repairs include parts from oil circuit breakers and tap changers. Our most common McGraw Edison type tap changer repair is the 550BLS, but we have repaired and manufactured parts from the 550B, 550BH, 550BHS, 550BL, 550C, 550CS, 550E, 550HS, and 550LS types to name a few.
The stationary arcing blades to the right were manufactured for a 550CS tap changer. We can manufacture such blades for all the different types using in house samples and drawings. Send in your main dial or other parts from your tap changers for reapir today!
---
Various McGraw Edison Blades and Movable Assemblies
550BLS Contacts repaired by WW Components
---
Cutler Hammer®
We can manufacture or repair many of the Cutler Hammer starter contacts. Shown below are two such examples from the A1 Series. These were sent in by the customer with badly burned tips. We were able to salvage the copper hardware, replace the burned up tips with new Silver Tungsten pads, and then silver plate the copper hardware. To the right is a stationary from a Cutler Hammer 6-185-5 set. The round burned up pads have been replaced by square contacts that have a larger surface area and can handle more current.
---
| | |
| --- | --- |
| Series A1, Size 4 | Series A1, Size 5 |
---
ITE®
This page shows some examples of our ITE work. To the right are contacts from various ITE air circuit breakers. The finger cluster comes from a KS Oil Circuit Breaker. These are usually sent in sets of six by our customers for repair. The one-pole set of contacts in the middle picture are generally known today as Telemecanique LCI contacts. As with all our motor starter repair jobs, the base metal of these contacts were silver plated after new tips were bonded. The third picture is a "stab block" for 4160 Volt Cells.
The two pictures at the bottom are of finger clusters (sent in to be replated) and K-600 movable arcing contacts. Click on the "Breaker Types" and "Motor Starter" buttons on the main page for a listing of more ITE breaker types.
---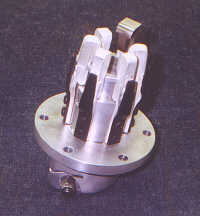 KS Cluster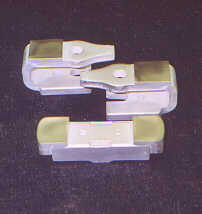 LCI Contacts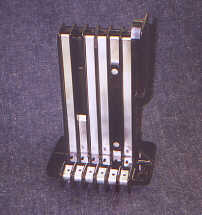 Stab Block


An army of ITE HK 250, 1200 and 2000 amp contacts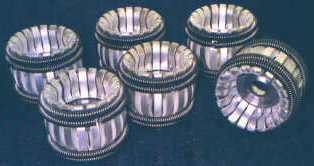 Clusters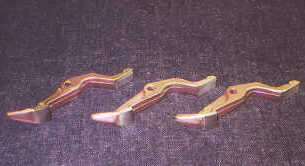 Arcing Contacts
---
Allen-Bradley®
WW Components repairs all kinds of Allen-Bradley starter contacts. Our most common orders involve the repair and manufacture of larger sizes of Series A as well as the different sizes from the 500-Line and K Series. Call or fax for a quote on repairing your Allen-Bradley sets using the contact information at the bottom of this page.
---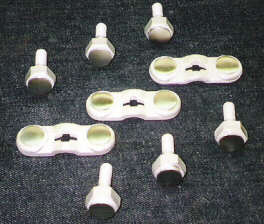 Series A, size 3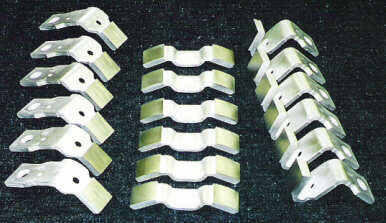 Series K, size 4
---
Siemens Allis®
& Allis Chalmers®
Most of the Siemens Allis and Allis Chalmers work we do involves contacts and disconnect finger clusters from air circuit breakers and oil circuit breakers. We also repair and manufacture contacts to tap changers, especially those to the TLH-21 series. To the right are two stationary reversing contacts and a reversing contact assembly from a TLH-21 tap changer.
We also do a lot of repair work on finger clusters like those shown in the photos below. Need finger clusters? We can often supply these at competitive prices. Visit the Warehouse link in the above tool bar for more information on the 1200 AMP and 4000 AMP round finger clusters or use the information at the bottom of this page to call for a quote today!
---
| | |
| --- | --- |
| Finger Clusters | 250 MA Arcing Contacts |
| | |
| --- | --- |
| BZO Stationary Assembly | LA Arcing Contacts |
| | |
| --- | --- |
| 8- and 20-finger clusters | BZO-160-161 Sickle |
---
Square D®
WW Components can repair just about any Square D starter sets and contactors. Many times, customers will send in their contactor sets which have been made out of copper with silver plating to recieve an upgrade. Call for more information and for a quote today!
---
| | |
| --- | --- |
| | |
| Size 5 starter set | Upgraded contactors |
---
Federal Pacific®
We work on different Federal Pacific contacts from air circuit breakers, oil circuit breakers and load tap changers. The contacts pictured to the right come from a Federal Pacific FPS-4-30 type breaker. Below are three parts from a Federal Pacific AJ-54 oil circuit breaker. Not pictured is the arcing stab.
---
Main and arcing clusters and a double stab
from a Federal Pacific AJ-54 Oil Circuit Breaker.
---
WW COMPONENTS, INC.
505 Smith Lake Dam Road
Jasper, AL 35504

___ Phone: 800-633-4068____ AL: 205-221-3093_______ Fax: 205-384-9420 ___

Customer Service e-mail: wwcomponents@yahoo.com
---
Copyright © 2002-
www.WWComponents.net